Facilities Available
Welcome to Abirami Maternity Centre!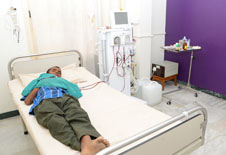 Abirami Maternity Centre.
Abirami Maternity Centre Started on July 1st 1982 with 10beds focusing mainly on maternity in the rented building..
1992 July 1st Maternity Centre moved on to Own Premises with 25bed strength .
General medicine and general surgery and pediatric, neonatal care and gastroenterology were added with eminent persons.

2007 july 1st the Maternity Centre extended with modern equipments into the new building.
2013 november - Nephrology OPD services initiated with Dr.T.Saravanan as consultant nephrologist
Read More
ABIRAMI SCAN'S
Ultrasound & Color Doppler
Ultrasound guided renal biopsy
X-Rays

Dr.R.Manohar MBBS., Dip in Diab, Residential Medical Officer
Laparoscopic surgeries
1) Laparoscopic Appendectomy
2) Laparoscopic Cholycystectomy
3) Lap. Assisted Vaginal Hystrectomy
4) Lap. Sterilisationx
5) Diagnestic Lap.Surgeries Pcon

URO Nephrology
1) USG Aided Renal Biopsy
2) URS / ICL
3) Trup
4) Lithostrophy
Abirami Kidney Care
Abirami Kidney Centre
1. All Kidney Diseases
2. Kidney Failure
3. Kidney Transplant
4. Fistula Creation
5. Emergency Catherisation
6. Dialysis – 24 X 7
7. All Insurance Sheme's Empanelled
8. Tamilnadu CMCHIS Empanelled
9. Ultra Modern ICU – Backup
10. Diabetic & Hypertensive Complicating kidney diseases.
11. Urology Supported with C-arm Operation Theatre.
.
Our Doctors